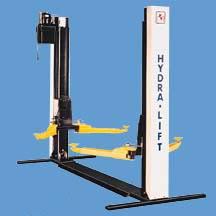 Incredibly strong 8" "H" beam full length construction. 9000 lb (4082 kg) capacity

Precision all steel main rollers for longer lift life

Low profile, super duty all steel enclosed base plate. Can be recessed in floor if desired

Low ceiling? No problem. Open top means lower overall post height

Powerful, precision honed hydraulic cylinder

Multi-section arm for easy positioning and an automatic arm locking system.

Optional adaptors for all popular vans and trucks.